Discover why we need wetlands - Leeton
Primary tabs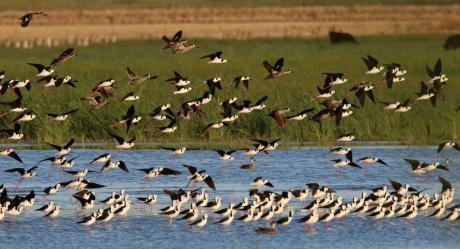 Where are the MIA Wetlands?
What's a Ramsar site?
How do we manage a wetland?
What lives there?
Climate change impact?
Explore the wonderful world of wetlands, and how we manage them into the future!
We have many significant wetlands in the Murrumbidgee Catchment. These wetlands help to clean the river system, buffer floods, provide habitat for a large diversity of wildlife and provide recreational resources. Traditional owners over time found wetlands to be a valuable source of food, fibre and even transport.
Fivebough and Tuckerbil are listed under the Ramsar international convention making them extra special!
What needs to be considered for wetland ecosystems in response to extreme climate events and how does this impact on their management? Let's find out how we can do this. Come and join us.
5:00pm Presbyterian Hall, 29 Sycamore Street, Leeton
6:30pm Light meal (Let us know of any dietary requirements)
7:00pm Walk at Fivebough (Bring a water bottle, hat, mozzie spray, long pants and enclosed shoes).